Special Day Crafts
Welcome to my special day crafts for kids section here at create-kids-crafts.com. Here you'll find easy, inexpensive holiday crafts for kids.
Homemade Wrapping Paper and Gift Bags, Christmas tree ornaments, and angel ideas.


Crown of hearts, craft stick messages, heart napkin rings, valentine bookmark, valentine heart paper, free valentine printables.


Paperplate Shamrock, Shamrock pin, Irish mint shake


Colored Easter eggs, egg shell mosaics, Easter basket, baby chicks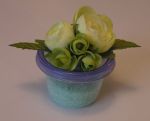 Homemade bath salts, puzzle piece photo frame, painted flower pot, air freshener ornaments, sugar scrub, flower garden in a jar, and more...


Rock paperweight, Father's Day basket, desk top office organizer, button key ring, Father's Day cards and more...


Canada Day streamer, how to draw a maple leaf, maple leaf tree rubbings, Canada Day fridge magnets and more...
USA windsock, 3D paper stars, American flag sand painting


Thank you notes, garland of thanks, Thankful tree, leaf napkin holder, leaf and pinecone turkey


Click here to see more Holiday craft ideas



Would you like some more ideas for fun crafts for preschool kids? Sign up below for my free monthly ezine PRESCHOOL SPARKS: