Mothers Day Crafts for Kids
Welcome to my Mothers Day crafts section where you'll find easy, inexpensive Mothers Day ideas for kids. Mothers Day is the second Sunday in May and a day we give honour to our Mothers.
Mothers Day Crafts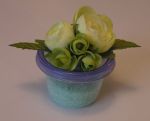 Bath Salts
Supplies Needed:
1/2 cup of Epsom salts(found in pharmacies)
food coloring
1/2 cup or larger clean jar with lid
spoon
scissors
ribbon
large artificial flower or smaller flowers for decorating top of jar
white glue
Put Epsom salts and 1 to 2 drops of food coloring in jar. Mix it well together with a spoon. Put the lid on a jar. Tie a ribbon around the jar lid and glue on a large artificial flower to the top of the jar lid.
*note* Epsom salts should not be used by pregnant women, people with high Blood Pressure or children.
Puzzle Piece Photo Frame
Supplies Needed:
White glue
four 6-inch craft sticks(tongu depressors)
puzzle pieces
glue wash(two tablespoons each of glue and water mixed together)
piece of white cardstock or stiff paper
photo of child/children
scissors
paint brush
Glue the craft sticks together to form a square shaped frame. Let dry. Glue the puzzle pieces onto the frame, puzzle pieces blank side facing down. Cover the frame completely with puzzle pieces overlapping each other. Let dry. Brush the glue wash over the puzzle pieces. Let dry. Cut the sheet of white cardstock or white stiff paper to fit the back of the frame. Glue it on the back and then let dry. On the front of the paper glue your photo in the center.
Painted Flower Pot
Supplies Needed:
Paintbrush
old toothbrush
old newspapers
acrylic paint(yellow, pink and blue) or your preference
terracotta pot
Paint a terracotta pot bright yellow all over, including on the inner edge. Let dry. Cover your work area with old newspaper and put on some old painting clothes. Use an old toothbrush to splatter paint in contrasting colors all over the outside of the pot. Let dry. Present your gift filled with a favorite plant or a pot of herbs.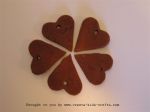 Air freshener Ornaments
Use this recipe to make Mom some wonderful air freshener ornaments for her closet, dresser drawers or any room.
Applesauce Cinnamon Dough
1/2 cup cinnamon
1/2 cup applesauce
1 plastic ziplock sandwich bag
Pour cinnamon and applesauce into ziplock bag. Seal bag and knead until mixture turns to dough. Allow your dough creations to air dry for 12 hours or until hard. Suggestion: Use cookie cutters to make really great, very fragrant tree ornaments,or air fresheners. Roll out dough between two sheets of wax paper. Don't roll out too thin(roll out dough to 1/4 to 1/2 inch in thickness).
Sugar Scrub
This fragrant skin scrub is great for a little bit of pampering at bathtime for Mom. It's especially good for sloughing off rough, dry skin on elbows and heels, and leaves Mom's skin silky smooth and glowing.
Supplies Needed:
Small airtight container with lid
decorations for your container(silk/cloth flowers, ribbon, etc.)
mixing bowl
2 Tbsp olive oil
3 Tbsp granulated sugar
1/2 tsp vanilla or almond extract
Mix together the sugar and olive oil in the bowl and then stir in the vanilla or almond essence(extract). Carefully spoon the mixture into the airtight container and screw on the lid. Wipe off any mixture on the outside of the container with a clean cloth. Decorate the outside of the container as you like with ribbon and silk/cloth flowers glued to the lid.
Flower Garden in a Jar
A flower garden that Mom will never have to water or weed!
Supplies Needed:
empty small jar with a lid
white glue
scissors
ribbon
green clay or play dough
silk/cloth flowers or toothpicks and foam flower cut-outs
Wash the empty jar and lid in warm, soapy water. Remove the label. Dry the lid and jar. Roll out the playdough with a rolling pin. Using the mouth of the jar as a cookie cutter, cut out a circle. If you use the lid as the cookie cutter you will not be able to close your jar when the time comes. Glue the playdough or clay into the lid. Stick flowers into the dough. If using playdough, set lids aside to dry and harden overnight. You could also use toothpicks for stems and foam flower cut-outs. Screw the lid on. Stand the jar on it's lid so that the flowers are growing upward. Decorate the lid with a piece of scrap material and tie on with a piece of ribbon.
Art Picture Frame
Have your child draw and color or paint a family portrait and then insert into a picture frame.
Homemade Bracelets and/or Necklaces
You can make great jewellery for Mom from the seeds of pumpkins or melons or from this plastic dough recipe:
Plastic Dough
1/4 cup white glue
1/2 cup flour
4 to 6 drops food coloring
1/2 cup cornstarch
1/4 cup water
Mix white glue, water and food coloring together well. Combine flour and cornstarch together in a separate bowl. Add the flour/cornstarch mixture to the water/glue mixture. Mix until a stiff dough is formed. Remove dough from bowl and knead on a floured surface for 2 to 3 minutes. Mold plastic dough on a surface covered with wax paper. Drying time varies depending on size of your creation. This is good for making beads and other jewellery.
If using seeds, give the seeds a good wash, and dry them well. Paint them with an acrylic paint and let dry, or if you prefer, color the seeds with waterproof markers. After drying, have an adult pierce a hole through the middle of each seed using a thick needle and thread them onto fine jewellery elastic to make pretty necklaces or bracelets.
Bookmark
A bookmark decorated with a foam flower is a great gift for a keen reading Mom.
Supplies Needed:
green strip of foam about 8x1 inch
foam cut-out flower about 2 inches in diameter
glue
decorations to add to bookmark:sequins, glitter, glitter glue
Cut out a flower shape from a foam sheet color of your choice(or your Mom's favorite color). Glue the flower to the top of the green strip. Decorate your flower and strip as you like.



Fun Gifts For Kids to Make:
Click here to see more Mother's Day crafts for kids.





What kids crafts can I help you find today?
Click here to make your own web site...simple & fast

Would you like some more ideas for fun crafts for preschool kids? Sign up below for my free monthly ezine Preschool Sparks:
Back to the top of Mothers Day crafts


Thanks for visiting create-kids-crafts.com