Canada Day Crafts for Kids
Enjoy celebrating Canada Day with your kids with these easy, inexpensive Canada Day crafts for kids. Canada Day is celebrated July 1.





Canada Day Streamer
Supplies Needed:
large white paper plate
red markers or paint
4 red colored streamers
scissors
tape
string
Cut paper plate in half. Draw a maple leaf on the center of the half plate and color the maple leaf with a red marker or paint. Tape 12 inch lengths of red streamers to the cut side of the plate. Cut a 12 inch length of string and tape to the top and back of the plate. Hang up somewhere outside and let blow in the breeze and enjoy these easy Canada Day crafts for kids!


How to draw a maple leaf
With a pencil, draw a vertical rectangle with three triangle points at the top, the center triangle being the tallest. Draw two more rectangles, each one at a 45 degree angle from the first and center rectangle. Draw three triangle points at the top of each of these rectangles, with the middle triangle the tallest. Color in your maple leaf red. Add a stem to the bottom of the maple leaf.


Maple leaf tree rubbings
Supplies Needed:
tracing paper or light weight paper
red crayons
maple leaves
Go on a nature walk with your child and collect some maple leaves if maple trees grow in your area. Place the leaves flat down on a smooth surface. Place a piece of tracing paper on top of the leaves. For a smaller child, it helps to tape down the corners of the paper. Using the side of the crayon, rub over the paper where the leaf is beneath it. The design and shape of the leaf will come through onto the paper.

You could also use this idea to make a Canada flag. You could do a leaf rubbing in the center of a white piece of paper, and then color in two red strips on both ends of the paper.

Canadian coins can be used as well for a Canada Day craft, if maple trees/leaves are not in your area. The kids can see the pictures on the coins coming through:
• Penny – Maples Leaves
• Nickel – Beaver
• Dime – Bluenose Schooner
• Quarter – Caribou
• Loonie – Loon
• Toonie – Polar Bear

Red and white Canada Day fridge magnets
Supplies Needed:
red, white or silver glitter
the tops of juice can lids,washed clean
glue
magnets
piece of paper
Glue a magnet onto the center of the back of a juice can lid. Let dry. Depending on what kind of design you would like: For a solid glitter magnet, rub glue all over juice can lid and sprinkle red, white or silver glitter or a combination of these over the glue. Shake excess glitter onto piece of paper. Let dry. For a maple leaf picture: draw a maple leaf on the center of the juice can lid with a marker. Fill in the maple leaf with a thin layer of glue. Shake red colored glitter over the maple leaf and shake off excess glitter onto paper. Spread a thin layer of glue on the area surrounding the maple leaf and then sprinkle white or silver glitter over same and shake off excess. These make beautiful Canada Day crafts for kids!


Happy Birthday Canada picture
Supplies Needed:
black construction paper 8x11 inches
glitter
small toothpick Canada flag
letter stickers,markers, or crayons
glue
Draw a fireworks design at the top of your paper with glue and sprinkle glitter over same. Shake off excess glitter. Glue a small Canada flag onto the bottom of the paper. With stickers, markers or crayons,print"Happy Birthday Canada" onto the paper.
Sparkly Canada Day water jar
Supplies Needed:
jar(baby food jar or pickle jar)
red, white and/or silver glitter or foil confetti
glue:clear silicone sealant(aquarium sealant)
tiny toy or greenery(optional)
florist clay(if using tiny toy or greenery)
distilled water or water that has been boiled and cooled
Adult help required with glueing and handling boiling water.
Fill jar up to 1/4 inch from the rim with water. Spoon in some glitter and/or confetti(not too much though). If you want to add something interesting to the jar such as a small toy or greenery,then you want to elevate the scene so it is in clear view. To do this, glue a plastic lid (cut and sized to fit in jar lid) inside the jar lid or build up the area with a little extra florist clay. Be sure to leave the edges clear so you have room to screw on the lid. Seal the lid to the jar with a small amount of silicone sealant around the threads of the lid and close tightly. When the glue is dry,turn the jar upside down and watch your Canada Day jar rain down red and white sparkles. You can also decorate the outside of the jar with small toothpick sized Canada flags or stickers or red and white painted pictures.Easy and inexpensive Canada Day crafts for kids!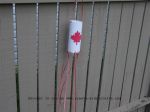 Canada Day Wind Tube
Supplies Needed:
red foam sheet
8 1/2 x 11 inch white foam sheet
hole punch
string
red ribbon
scissors
glue
1. Draw a maple leaf or use this maple leaf template to draw and cut out a maple leaf on the red foam sheet.
2. Using a hole punch, punch holes approximately 1 inch apart down the length of both short edges of the white foam sheet. With the string, weave together the short edges of the foam sheet through the holes to form a tube shape. Make 2 holes; one on either side of the top of the tube and attach a ribbon to hang up the wind tube.
3. Glue on the maple leaf to the center of the tube.
4. Punch holes along the bottom edge of the tube and tie on a red ribbon to each hole.


Make your own Canada Day stickers!
Find and cut out pictures of Canadian symbols or pictures known to represent Canada such as maple leaves, Canadian flags, beavers, moose,loons, RCMP, Canadian coins, different parts of Canada, etc from old magazines or newspapers. Use the following recipe for making stickers:
4 Tbsp hot water
2 Tbsp flavored gelatin
Pour gelatin in a small glass bowl. Add hot water and stir until blended. Brush mixture onto the back small pictures,drawings or magazine cut-outs. Allow the sticker to set for 30 to 45 minutes or until dry. When you are ready to use your sticker, just wet the back and then stick it.Fun and easy Canada Day crafts for kids!


O Canada!
(Canada's National Anthem)
O Canada!
Our home and native land!
True patriot love in all thy sons' command
With glowing hearts we see thee rise,
The true North strong and free!
From far and wide
O Canada, we stand on guard for thee.
God keep our land, glorious and free!
O Canada, we stand on guard for thee!
O Canada, we stand on guard for thee.


The link below is a beautifully done website about Canada. Turn your computer sound/speakers on because the sound effects are great too!
What kids crafts can I help you find today?
Click here to make your own web site...simple & fast

Thanks for visiting my Canada Day crafts for kids section.



Back to the top of Canada Day crafts for kids


Back to home page from Canada Day crafts for kids