Summer Crafts For Kids
Summer time! Warm and sunny. Flowers blooming. Butterflies fluttering. Welcome to my summer crafts for kids section here at create-kids-crafts.com. Capture the sights and sounds of summer with these easy summer crafts for kids.


Leaf Rubbings
Supplies needed:
tracing paper or light weight paper
crayons
variety of leaves (preferably with prominent veins)
Go on a nature walk with your child and collect a variety of different types and shapes of leaves. Place the leaves flat down on a smooth surface. Place a piece of tracing paper on top of the leaves. Using the side of the crayon, rub over the paper where the leaf is beneath it. The design and shape of the leaf will come through onto the paper.
Fishing Pole and Fish
Supplies needed:
long plastic straws or dowling sticks
yarn or string
construction paper
paper clips
strip magnets
crayons or markers
scissors
Cut a 24 inch length of yarn or string. Poke a hole through the top of the straw.Pull the yarn or string through the hole and tie securely. Tie the yarn or string around the dowling stick if using that. Measure and cut several 1 inch pieces of magnets. Tie the other end of the string around the magnet. Make sure the magnetic side is opposite the knot of the tied yarn or string.
Cut several fish from construction paper.Or if you want to use real water with your fishing pond, cut several fish from plastic lids. Draw eyes and a mouth on each fish. Slip a paper clip onto each fish's mouth.


Egg Carton Caterpiller
Arts and Craft Supply List:
egg carton(cardboard or styrofoam)
paint
paintbrush
crayons or markers
scissors
chenille stem(pipecleaner)
wiggly eyes
glue
Cut through the center section of the egg carton, making the long 6 cup section, the body of the caterpiller. Paint the outside and set aside to dry. Or use markers and crayons rather than paint if you prefer. Make 2 holes at the top at one end of the caterpiller. Make the antenna by bending a chenille stem through the 2 holes. Glue on the wiggly eyes beneath the antenna or draw eyes on with a marker.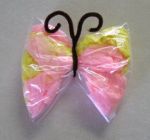 Bag Butterfly
Arts and Craft Supply List:
ziplock sandwich bag
Variety of colors of tissue paper
chenille stem(pipecleaner)
clear tape
Rip or cut several small pieces of tissue paper and fill ziplock bag with the tissue paper pieces. Close and seal bag with tape. Fold a chenille stem in half and place the sandwich bag into the bend. Twist closed and form the ends into an antenna shape.


Flower crafts
Sailboat crafts for kids
Camping Crafts
More summer crafts page 1
More summer crafts page 2
Fun Summertime Craft Kits and Ideas You Might Like:
What kids crafts can I help you find today?
Click here to make your own web site...simple & fast

Want some more ideas for fun crafts for preschool kids? Sign up for my free monthly ezine Preschool Sparks:
Back to the top of summer crafts for kids


Thanks for visiting create-kids-crafts.com