Preschool Winter Crafts


Here are some great preschool winter crafts that your kids are sure to enjoy!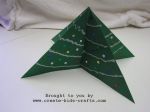 3D Christmas Trees
Supplies Needed:
green poster board
scissors
glitter glue, sequins, and/or stickers for decorating
Cut two identical triangles from green poster board. Make a cut in one triangle from the top toward the center and in the other triangle from the bottom toward the top. To prepare the tree, decorate one side of each triangle with glitter glue, sequins, and or stickers. Allow the triangles to dry. Once dry, decorate the other sides of the triangles in the same way. Next slide the triangle that was cut from the bottom onto the other triangle to make the tree self standing.


Snowflakes
Supplies Needed:
snowflake template
1 sheet of blue construction paper
sponge
white paint
Make a large snowflake template and tape it to a sheet of blue construction paper. Dip a sponge into white paint and dab paint around the open areas in the snowflake as well as all around the edge of the snowflake. After the paint dries, carefully remove the template from the blue paper.


Melted Snowman
Supplies Needed:
wax paper
white craft glue
small piece of yarn
white or silver glitter
small scraps of colored construction paper for eyes and nose
toothpicks or small sticks
On a piece of wax paper, have your child pour a blob of white glue. Use the kind of white craft glue that does not dry clear. Add a loop of yarn to the top of the blob to hang up the melted snowman when finished. Sprinkle a bit of white or silver glitter to make your snowman sparkle. Add paper dots for eyes and a mouth and a small piece of orange construction paper for a nose. Add two tiny toothpicks or sticks for arms. Allow glue to dry which may take a couple of days. Peel the snowman off the wax paper and hang up. This makes a really cute preschool craft.


Popsicle stick snowflake
Supplies Needed:
popsicle sticks
glue
paintbrush
white glitter
Cover work area with a piece of paper to catch glitter. In a small bowl, dilute glue with a little water, and have child paint glue on one side of each popsicle stick with paintbrush. Sprinkle on white or silver glitter to glued side of each popsicle stick. Shake off excess glitter onto piece of paper. Let dry. Once dry, make an "x" shape with two popsicle sticks and glue together. Glue third popsicle stick behind "x" to form a snowflake. Have child be careful with glitter so as not to get in eyes.
Antler Headband
Trace and cut out hand prints of your child on brown construction paper. Cut out a 1 1/2 inch strip of brown construction paper sized to fit around your child's head. To measure, use a length of string and wrap around child's head just above the eyebrows. Measure strip of paper to same length. Glue the cut-out hand prints to the front of the headband so the fingers on each hand are pointing up.


More preschool winter crafts...

Back to the top of Preschool Winter Crafts