Make An Erupting Playdough Volcano!
Making a playdough volcano that erupts is something that kids love! It takes a bit of preparation work, so if you're going to use this for a child's Birthday party or children's event, have it all ready before hand. Have lots of "lava mixture" on hand as well, as kids want to see the playdough volcano erupt again and again!
Supplies Needed:
1.Tray or container(large tupperware/plastic container works well to catch lots of lava mixture after numerous eruptions)
2.Paper cup
3.Tin foil
4.Scissors
5.Playdough: I use playdough that has been mixed and mashed together from a variety of colors(As kids love to do!)
Step 1.
Instructions
1. Place a paper cup on your tray and wrap tin foil around it, folding the tin foil over the rim of the cup and shaping the remainder tin foil to resemble a mountain. You may need to use 2 or 3 pieces of tin foil for easier shaping.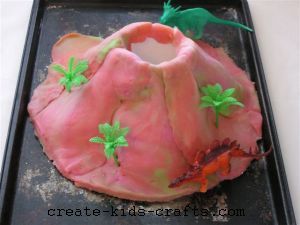 Steps 2 and 3.
Instructions continued
2.Roll out playdough with a rolling pin and place over tin foil. Fold playdough over rim of cup as well. You may need to use 2 or 3 sections of rolled out playdough for easier shaping.
3.Decorate your volcano with trees, animals and buildings if you wish.
Step 4.
4.Make the lava mixture:
3 tsps Baking soda
1/2 to 1 cup white vinegar
Food coloring
After your volcano is built, put the baking soda into the volcano paper cup. Mix the food coloring with the vinegar in a separate cup. Pour the vinegar/food coloring mixture into the volcano and watch the eruption!
Remember to have lots of lava mixture on hand as kids will want to see this again and again!



Kids are curious about the world around them. Below are some cool kids science kits and ideas that are fun and educational.


For more fantastic science kits for kids, click here.

What kids crafts can I help you find today?
Click here to make your own web site...simple & fast

Want some more ideas for fun crafts for preschool kids? Sign up for my free monthly ezine
Preschool Sparks: