Butterfly Craft
This butterfly craft is so easy and sure to please, your kids will want to make several to brighten up a room!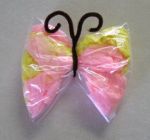 Bag Butterfly
Arts and Craft Supply List:

ziplock sandwich bag
Variety of colors of tissue paper
chenille stem(pipecleaner)
clear tape

Rip or cut several small pieces of tissue paper and fill ziplock bag with the tissue paper pieces. Close and seal bag with tape. Fold a chenille stem in half and place the sandwich bag into the bend. Twist closed and form the ends into an antenna shape.


Fun Butterfly Craft Kits and Ideas You Might Like:



Why is it called a butterfly?

"Some people call butterflies "flying flowers" because of their beauty. Why are these wonderful insects called butterflies? There are many possibilities, but no one knows for sure. Some say that people started using the phrase "flutter by" to describe how they fly, and that phrase was eventually corrupted into "butterfly." In England, many of these insects are yellow, like butter. Some people say that they were called "butter-colored flies, and that eventually got shortened to butterflies."

Young Explorer Series: Flying Creatures of the Fifth Day






What kids crafts can I help you find today?

Want some more ideas for fun crafts for preschool kids? Sign up for my free monthly ezine
Preschool Sparks:
More bug and insect crafts
From Butterfly craft to home page